The Storm (2023)
---
The Storm is a short film that follows the journey of 11 individuals as they ascend a staircase, transporting them to an alternate reality. It can be interpreted as an exploration of multiple dimensions, immersing oneself in the anticipation of the unknown. The film embodies the essence of durational performance art, an ever-evolving piece without a definitive beginning or end. It transitions from wakefulness to slumber, traversing midnight landscapes and moving from behind the scenes to the forefront. It carries a sense of contemporary spirituality and serves as an ongoing work in progress. The project will be extended as a live performance, inviting the audience to join as climbers on the staircase. Their participation will be captured on film, forming a grand portrait of individuals ascending or drifting into sleep.


Intermission (2023)
---
A club night got abruptly halted by a singing choir, bringing all lights and sounds to a sudden stop. The choir — illuminated by a spotlight — slowly smirked as they chanted for one minute until the spotlight extinguished and they disappeared.
Rooting (2022)
---
Move on the grid at a slow pace using both hands and feet. When completed, take a rest on the ceramic funghi.


Radio Aahaa (2021 - 2022)
---
A show focusing on long-durational audio pieces, deep listening, soundtracks, performance art registrations, and spatial installation works. It's art radio, baby! The station started as Sandberg Radio as part of PUB and is transitioning into another stage from September 2023 at Echobox Radio, Amsterdam.
EPISODS 8 AND 9 (CLICK IMAGE TO LISTEN)

EPISODE 8: Aahaa is live from 'Catching Up in The Archive' playing selected sounds carried on vinyl and tape from the immense archive of de Appel Amsterdam.

EPISODE 9: Aahaa visits Echobox to play a selection of favorites gathered during previous episodes.
Chin Resters (2021 - 2023)
---
Sculptures made for resting the chin. Can also be used to support other body parts. Orginally made as performance objects, now also available for sale to use at home.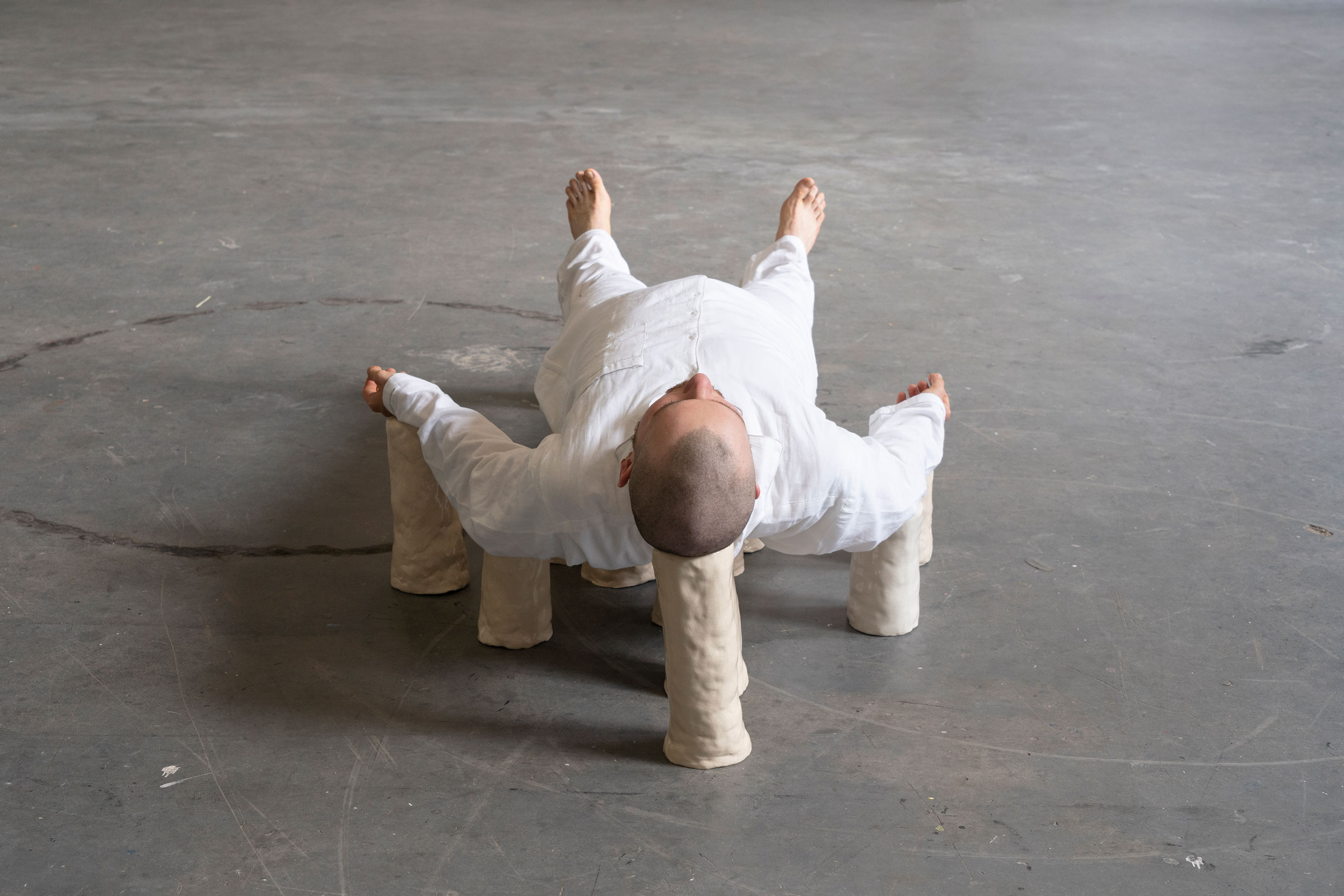 Sunkiss (2021)
---
Sunkiss
is a four-hour performance piece revolving around the idea of 'slowness' in response to the acceleration of a once again rapidly forward moving world. In four sequences, Emirhakin, Negiste Yesside Johnson, Ratri Notosudirdjo, and Mylan Hoezen perform actions that stimulate energy and blood circulation.
We live in a time where our attention and even sleep are turned into forms of labor, being captured and capitalised upon; omnipresent connectivity, paradoxically, leads to a further disconnection of body and mind. The urgency with which the performance reflects on this condition is, therefore, translated into an approach that rejects emergency. Rather than following a script the performers endure in a slow motion — fully focused on the present moment. An emergent choreography arises whose full movements may only be grasped if the witness also endures.
The score of Sunkiss aims to create the experience of being close to the sun. Proximity, which can feel soothing and beneficial but also turn hazardous. The sound is based on a Shepard tone—a superimposition of sine waves with one-octave distance—creating a hazy, trance-like humming that helps both performers and audience to become further submerged in the moment.